Find Reliable Dog Walkers Throughout the City
Finding a company that provides Chicago neighborhood dog walking services shouldn't be a hassle. Thanks to Cruisin' Canines, residents from all over the city can end their search for a reliable, dedicated dog walking company. Our team is comprised of compassionate and punctual dog walkers who take spending time with your pets seriously. When you hire Cruisin' Canines, you can be confident that your dogs are in great hands—we make your pets' comfort our top priority.
Cruisin' Canines' professional dog walking service has been caring for dogs in the Chicago area since 1995. We strive to offer the best care possible for your pets, all while providing you with peace of mind when you are at work, away for the weekend or gone for a long vacation. Whether you're someone who can't make it home as often as your dog or cat needs, or you just want someone to take your "best friend" out for a nice stroll while you are out, Cruisin' Canines can help.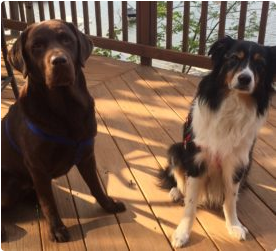 5 How To's For Walking Your Dog
Personalized Dog Walks
You know as well as we do that every dog has preferences about their walks. Some dogs make sure they visit the same trees and shrubs every time they go out, while other dogs don't mind as much but prefer being walked for a little bit longer in exchange for the change in route. We take the time to learn what your dog loves the most, and tailor our services so your pet is happy. Whether you need Chicago neighborhood dog walking in West Town, Ukrainian Village, or Noble Square, or you're further north in Uptown or Ravenswood, Cruisin' Canines provides personalized service that matches exactly what your dog needs from a visitor—whether that's five minutes of cuddle-time, a quick potty break outside, or a neighborhood adventure walk. Our staff will give your dog the attention they deserve.
Consistent, Reliable Service
It's frustrating when you hire dog walkers only to have them cancel at the last minute due to scheduling conflicts or being short-staffed. At Cruisin' Canines, we know that pet owners need a Chicago neighborhood dog walking company that is reliable and consistent. We also know that dogs form complex bonds with the people they spend time with, and that some pets take a while to warm up to new people. That's why we strive to send the same dog walker to your home in Bucktown, Buena Park, or Lincoln Square every time—your dog will feel more comfortable walking with someone they recognize, as well as with someone who knows their routines. With our consistent scheduling, our staff is more readily prepared to serve clients in neighborhoods all over the city.
After our walks or visits, our walkers leave a note detailing how your special pet is doing. Cruisin' Canines knows you're worried about your pet when you're not there, so we try to alleviate whatever stress we can for you. As animal lovers ourselves, we know how precious your pets are to you, so we have the best staff to meet your needs. We carefully select and train all of our local dog walkers personally so you can feel comfortable that your pets are receiving the utmost care. We only hire pet lovers whom we would trust with our own "best friends."
We want your pets to have the same love, attention and nurturing that you would be providing them if you were there, which is why our local walkers treat all the dogs and cats that we watch as if they were our own.
Learn More About Our Services
In addition to providing Chicago neighborhood dog walking, we also offer daily pet care to cats and puppies, as well as boarding services for adult dogs. Learn more about what Cruisin' Canines offers to pet owners across the city. When you work with Cruisin' Canines, you'll be able to keep your pets content when you're gone, while remaining comfortable in knowing that they're in good hands.